Jerseys are our business
The fastest growing, most efficient and most profitable breed of dairy cattle in the world.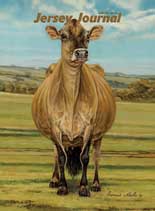 View the most recent Jersey Journal for free this month and add a subscription, to not miss an issue!
Welcome to the Jersey Journal. Since 1953, we have been the official monthly publication of the American Jersey Cattle Association and National All-Jersey Inc. The Jersey Journal is dedicated to giving Jersey breeders throughout the U.S. and foreign borders important information about the always exciting Jersey cow.
Check out all the upcoming sales, meetings, deadlines, shows and more on the Jersey Calendar.
Have a date you would like submitted to the Jersey Journal calendar? Email kbillman@usjersey.com with your event details.
More
Are you interested in getting your farm noticed in the Jersey Journal? We offer several different options for advertisers, including special contract rates.
Click here to learn more about advertising with the Jersey Journal!
More
Check back each month for a featured story from the most current Jersey Journal.
The featured story, along with show results, sale results, and meeting reports, is just part of what Jersey Journal subscribers have access to monthly.
More

Follow USJerseyJournal on Twitter!